eCommerce Multi Vendor Marketplace Script
Make your own eCommerce marketplace application with our ready scripts coded and tested by master coders who understand the business of marketplace platforms inside out. Unlimited Everything | White-label Solutions | Branded Customer Mobile Apps | Custom Reports & Dashboard | Secure Web Services | Dedicated Support.

Multi Vendor Marketplace
Our scripts are ideally coded for creating multi vendor eCommerce website that support unlimited vendors and products, super administration control, multiple payment gateways, order management tools, vendor commission calculator and product catalogue builder.

Mobile Responsive
Our mobile responsive scripts are coded to be compatible with multiples of devices and browsers. It is designed with eCommerce websites in mind. Expect the script to work perfectly bring in quality to your eCommerce solutions.

Online Shopping Cart
Scripted with care using futuristic technologies, our codes can work miracles when used in your online shopping cart. Our best multi vendor marketplace script includes with advanced cart features, apply discount coupons/vouchers and for guest checkouts.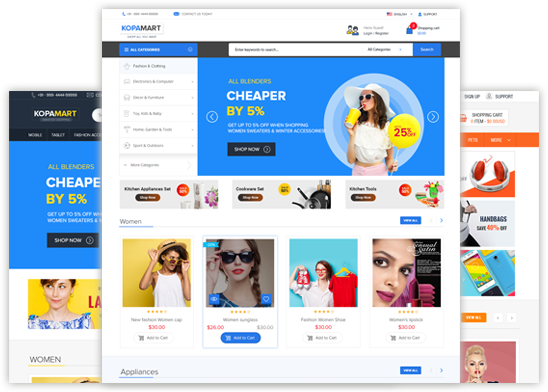 Web Application

Common Marketplace Store Front
Give shoppers a unique experience by giving them a unified common store front with our scripts so that they don't have to browse through umpteen pages to order niche products. It will enhance shoppers experience and save time from developing each script independently.

Multi Vendor eCommerce
Our multi vendor eCommerce script can be integrated into one extensive feature shopping experience for your eCommerce platform. You can automate: price calculation with applicable taxes, updating the cart and provide for guest checkout. All this including standard features applicable to eCommerce websites.

Advanced Shopping Cart
Our advanced scripting codes and technologies make it possible to give your platform visitors a unique experience by linking in login to their social media websites. It is also possible to update profile setting, record history and add favourite products in simple easy steps.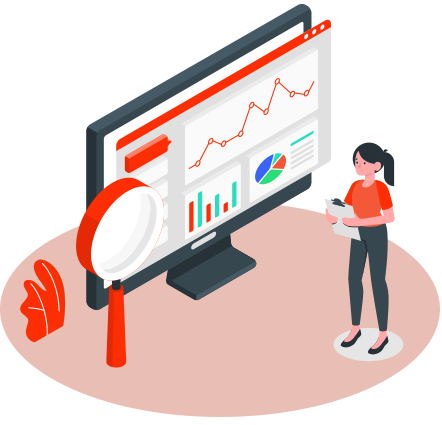 Super Admin Panel

Advanced Application Settings
Give your software the advantage of a really powerful setting module with our advanced script. You can customize software behaviour and even a really great aesthetic appeal with little effort. This can reduce the time you spend on activating the software dramatically.

Vendor Management
Using our script, you can develop a full-fledged multi vendor eCommerce website that will help you source products from multi vendors. It will be a breeze to order products and manage inventory however large your offerings of products may be. You can even use it for determining maximum/minimum levels of stock.

Customer Management
Customer management is critically important for any business and our scripts are tuned to give your customers a pleasant experience through your software. It has a unique interface that is easy to use it for maintain a history of purchases, customer profile and experience reviews.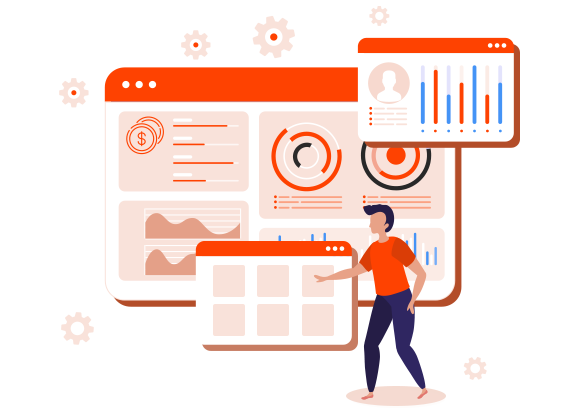 Merchant Panel
Advanced Dashboard and Reports
Dashboard and Reports are critical to running a eCommerce website smoothly and seamlessly. Our script is designed to give complete information that is authentic and on real time basis. It is guaranteed to give users full control and print reports as per set standards/layout.

Bulk Product Import / Export
Handling imports and exports on large scale cannot be anymore easier when you use our multi vendor eCommerce script in your applications. You will get total control with all critical information updated to the last second.

Vendor Commission Management
This is the perfectly tailored script that you have been waiting for managing vendor's commission. It is scripted to act automatically based on conditions you set. No more bothersome calculations humanly and errors creeping in often.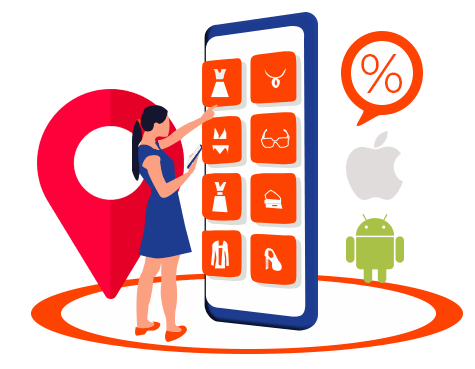 Customer Mobile Apps

Branded Customer Mobile Apps
If yours is a native platform then our scripts can be used for developing a unique mobile app with great functionalities that can be linked to your multi vendor marketplace script. The uniqueness will build a formidable brand image for you.

User Friendly Design
Our scripts are available for building UI and friendly navigation into your software. The benefits you will derive are manifold and most important will not be constrained by lack of a manual. It is simply the most intuitive design that anyone would have come across.

Instant Notification
Everything under the hood is in real-time basis and therefore is amenable to instant notification. You can notify anything from simple acknowledgement to complex broadcasting of messages to those who you need to keep in the loop.
Buy our multi vendor eCommerce Script and jump start your project
Get Free Demo
More Features
We made our scripts for multi vendor eCommerce website feature rich so that everything comes to you on a platter fully embellished. There is no feature that we have left out; all you need to do is include our scripts and let your software takeoff smoothly.

Unlimited Vendors, Products
Make your multi vendor marketplace truly capable of accommodating the most number of vendors and products.

Custom Payment Gateway
Define your own payment gateway and give yourself a distinct advantage. You will win more customers and go strong.

Vendor Ratings & Comments
Make your multi vendor marketplace script compatible for vendor ratings and comments and open your marketplace for transparency.

Promotion & Discount Coupon
Unique scripts for promoting products and allowing discounts with coupon. Generate coupons based on your promotional needs.

Statistical & Graphical Reports
No more struggling with endless lines of words. Every statistical information and graphical reports will be generated instantly.

Invoice, Commission Management
Stop struggling with making invoices and calculating commission. Manage commission process an automatic process.

Customers & Order Management
Our eCommerce marketplace script is endowed with an unique approach to customers and order management.

Payment History & Wallet payments
Our scripts are ideally suited for wallet payments and viewing customer payments history for focusing on improving service.

Multi-Level Category
Organize products in categories using a multi-level hierarchy that makes it easy for customers to find their merchandise easily.
Don't procrastinate – Order multi vendor eCommerce script today itself
Your search for a cost-effective source of script for your software project ends here. There is virtually everything that you can ask for in our scripts to make your project come to action in minimum time.
100% Source code
One time payment
Free setup
24*7 Dedicated support
Customization
Ask to see a Product Demo and Quote
Our multi vendor marketplace script is an all encompassing script that will save time and increase quality.
Our Client Says
Testimonial
Client says
I have been associated with kopatech team last few months for eCommerce Marketplace application development. Their team is very supportive and responsive. The new eCommerce web design attractive us and our customers. All the Best team.

MMr.Matthew Ogborne,
United Kingdom

I appreciate their work on my new Multi Vendor Script. Excellent technical support and flexible communication with entire team. Thanks to Kopatech.

AMr.Aris Azhar,
Malaysia

I thank Kopatech for wonderful technical support, hard work and dedication. Product price was very competitive and flexible payment terms. Great experience so for, We planed future projects and customization.

RMr. Rasha Kelej,
Germany
Multi Vendor Marketplace Script - Portfolio
Allegro

Allegro - Its Multi Vendor marketplace Software ( Buyer & Seller Platform). Any one can join as a seller and sell the products online

Honestbee

The enterprise food ordering and delivery app in Malaysia. Find favorite restaurant, order menu's and delivered on time.

Bookatable

User search and find the best deals, restaurant in nearest location and book the table online.

Madeit

Australia's online buying & selling marketplace for handmade and independently created products. Its best place for sellers to showcase their handmade design, crafting talent and creative art.

Housing Application

India's leading real estate application to sell & buy the properties in online.