Multi Restaurant Online Food Ordering System
Unlimited Everything. Website Ordering. Branded Mobile Apps. Customer Insights. Management Tools. Dedicated Support.
Super Admin Panel

Reports and analytics

A super admin dashboard designed to give information as it happens. From accepting orders to delivering and producing custom reports, our software is simply the best imaginable.

Management tools and advanced settings

Our multi restaurant delivery software is simply the best that money can buy – it has the latest management tools, advanced features that can be easily configured to perform any specific needs of your restaurant business.

Delivery zone settings

A multi vendor food delivery app made for delivering food instantly on receiving orders across different delivery zones. Further more you can define delivery polygons on the Google map to make work simple, highly productive and easy.

Super Admin Panel

Restaurant management

Our software has every feature that a restaurant manager will desire and even more without asking – expect the best – add a restaurant, edit restaurant profile, accept or reject restaurant, filter and view restaurant address marker.

Delivery tracking and order status

A simple user friendly delivery tracking that will win your restaurant applauses from users. Customers can easily track food arrival time as it happens and know the status.

Cuisines management

The basic design feature of our software is to make life easy for restaurant managers in delivering food precise and accurate; whether it be ten or a few hundreds of cuisines our app will remove the difficult part out.

Super Admin Panel

Driver management

We understand that driver management is a critical component in any food delivery software. Top features include – approve/add new drivers, conduct searches, filter, create map view of live location and move forces for optimum efficiency.

Customer management

Customers rank the highest in our priority list – easy sign up, member history/profile and even the minutest account details. Our food ordering system ensures that customer never leave us.

Admin commission and tax settings

Our multi vendor food ordering system is a highly flexible app designed to make life easy for every users. Changing chargeable commission, delivery charges and service charges is simply a few clicks away.
Restaurant Admin

Order management

Managing orders is child's play with our multi restaurant online ordering system – include order size, rejection/accept orders, online update status, food preparation status and delivery completion.

Food items management

multi restaurant food ordering is flexible and expandable as your business begins to grow – add new food descriptions, multiple food sizes, include add-on groups and add as many images as needed. This will give order managers an advantage that will bring in new customers just by reading the description and being attracted.

Restaurant multiple open and close time

Our system is designed to accommodate multiple restaurants with different operating times – simply choose your time as you want it or customize the time that suits each restaurant's specific close/open needs.

Restaurant Admin

Menu management

Ours is a highly tested and tried food ordering system especially made for businesses that have extensively large menu list – uniquely our software is best for restaurants that have a big menu and bigger still customer base. Managers can classify menus into sub menus as well for customer benefit.

Powerful restaurant settings

Make each restaurant unique with a powerful image that will register instantly. Our software is designed for update logo, cuisine types, offline/online status, minimum order accepted and locations. We are unique because our software will build brand image for you.

Add-ons and add-on group management

Managing our software is simple as well as highly flexible. To make it easy we have included a add-on group management feature that is unbeatable by any other software.
Are you looking multi restaurant food delivery app for your business ?
Get a Quote
Web Application

Simplified website ordering

Our is made from complex coding systems to make it the easiest, fastest and the safest for all users. You will see productivity increase by leaps and bounds and bring in big profits.

Multi restaurant platform

Our online food ordering system is simply the best in class. You can use it for endless number of restaurants and expect to work smoothly without a hitch. It will simply save you a lot of money and increase productivity.

Restaurant ratings and reviews

Get reviews, ask customers for ratings and beat the competition out to be in the lead. Be the first to get honest reviews for changing. Frank customer opinions will help you reposition and stay in the lead.

Web Application

Order invoice download

View or download order invoice in our multi restaurant food delivery app for as many orders or as few. The choice is yours. Our software is designed to give a permanent record for storage and retrieval.

Favorite restaurants

Give customers the choice so that they can mark their favorite restaurants to visit it again. More customer review means more diners and bigger profits for all stake holders in the food distribution chain.

Select multiple add-ons and food quantity

Our software is designed for endless add-ons and big volume orders. It is designed to give customers never-before options – order small quantity or double size; or any other add-ons combination that makes it easy for customers.

Website Ordering

Advanced restaurant filter

Our software will help diners to find the right restaurant at the right time for the right menu. Customers can filter the restaurants by cuisine types, ratings, offers, delivery time and nearest location.

Restaurant and driver sign-up

Ours is a unique multi vendor food ordering system with all in one feature. You can even signup new restaurants and new delivery drivers in a fraction of minute effortlessly.

Auto location search

Our system use geolocation capabilities to locate customers easily and precisely – results in quick deliveries. Our software feature includes a location-suggest capability that customers can use for auto-completing addresses and even intuitively suggest restaurants close by.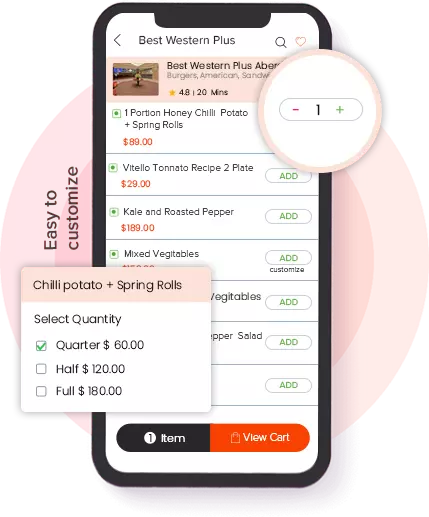 Customer Mobile Apps

Real-time order tracking
Our application is designed to feed information as events start to unfurl. From the moment of placing an order to receiving it, customers can know what is happening and when it will reach their home.

Advanced navigation
Our product is the result of believing that the customer is the king and therefore the multi restaurant ordering system must be the easiest to navigate and a pleasure to use. Every feature in the software is intuitive and does not require any boring to read manual or documentation for the customers to master. It is like fish taking to water instantly.

Secure payment gateways
This app is a technically unbeatable marvel with a lot of advanced features. What makes it a highly preferred product is its compatibility to be integrated with multiple gateways.
Interested in working together with multi restaurant online ordering system?
Get a Quote
Food Delivery App

Delivery management and status updates

Our multi restaurant delivery software is designed to provide status updates on current up to the minute data. Even drivers can manage the delivery history and work-done status. It makes reporting like pickup, reached location and delivery status back to control admin easy.

Auto assign delivery job

Our enterprise software has a powerful assignment algorithm that automatically selects the nearest delivery driver and assigns the job automatically. Accepting and refusing is driver's option.

Pick up order from restaurants

Our system offers drivers features that make it easy for him to pick an order based on his proximity to the restaurant at any given time. This helps to minimize and use time efficiently without wasting time for food preparation and handover for delivery to customers.

Food Delivery App

Real time delivery tracking

In our online food ordering software, everything is in real time mode: move delivery drivers to demand areas, station idling drivers at vantage places and synchronize the process with places where orders are flowing.

Rate delivery

Drivers have the option to rate restaurant and customer delivery based on their experience. This helps to concentrate and separate the good one from the bad allowing the admin to make invaluable changes based on feedback from drivers.

Save multiple delivery address

Our app is designed to offer customers multi-location delivery facility. This means that customers ordering food can choose their home, office or any other GPS location for delivery. Customers can opt an address that is already stored or even just before finalizing the order.
More Features
Our online food ordering system offers the maximum features that are valuable for your business.
Customer insights

Be the first to know what customers are thinking about your service and make yourself innovative.

Discount coupons and reward points

Use the app to give your customers a great time – you can distribute discount coupons and offers code.

Email and push notification

Send email and Push notification to customers, restaurants, drivers and receive replies directly for instant action.

Mobile responsive application

Our multi restaurant delivery software has a responsive design feature. So you don't have to bother about user screen size. We take care of it.

Guest checkout and cash on delivery

Our software for ordering food is endowed with a robust payment system. Guest checkout and cash on delivery are few options that we support.

SMS gateway and mobile verification

Our software is designed to connect seamlessly with SMS – opens a new channel for mobile number verification and order status alerts.

Multilingual support

Our software is multi-lingual capable; no matter where you operate you can give multiple language as an option. This means that, no matter where your business is located

CMS Pages and customization

Ours is flexible software made to meet all your requirements in a single go. Even administrative people without any coding expertise can add or remove and replace content with just cut and paste capability.

Real-time restaurant status

Know at what time which restaurant stays open for the day. Helps customer to choose the restaurant from: unserviceable, open/closed and time needed for delivery.

Advanced cart and checkout

Advanced cart where customers can order multiple food items from restaurants and pay in a single order. Our cart feature makes it possible to calculate delivery charges, redeem discount coupon and update a cart items.

Order status and delivery tracking

Our multi restaurant delivery service software offers a technologically advanced where you can track your orders from minute one up to delivery in a map format even as the delivery is in process.

Branded iOS and Android apps

Our software is designed for iOS and Android apps and you are assured of 99% of all potential customers. Your customers in turn will that the app is especially made for your business giving you the brand advantage.
Collaborate to stay ahead of the race for supremacy.
We designed multi restaurant online food ordering system to put the power of app in the hands of food delivery service operators. Ours is a sophisticated product to make your work simple and easy. There is practically no learning curve – everything is intuitive and your business can take off with a bang.
100% Source code
One time payment
Free setup
Dedicated support
Customization
Get Free Product Demo
Create your own multi restaurant delivery software instantly. Our product demo is absolutely free. Please contact us now itself.
Our Client Says
Testimonial
Client says
We have worked with kopatech team for our restaurant project. Software developers were too supportive and provided instant responses for our queries. Big thanks to kopatech team.

NMr.Nadeem Raza,
United Arab Emirates

I thank Kopatech for wonderful technical support, hard work and dedication. Product price was very competitive and flexible payment terms.Great experience so for, We planed future project customization.

RMr. Rasha Kelej,
Germany
Multi Vendor Food Ordering System - Portfolio
Djib-Go

DjibGO is an on-demand service that provides quality foods from the licensed restaurants. It strives to provide a rich variety of food items within 30 minutes.

Foodease

Foodease is an online food ordering system for a French territory with five islands in the South Pacific. It brings together a set of restaurants and dishes.

Home-Caters

Event and home catering services provider in India. It will support small family gathering, big wedding receptions and corporate party orders.

Honestbee

The enterprise food ordering and delivery app in Malaysia. Find favorite restaurant, order menu's and delivered on time.