How contactless delivery transforms the restaurant industry during COVID-19 pandemic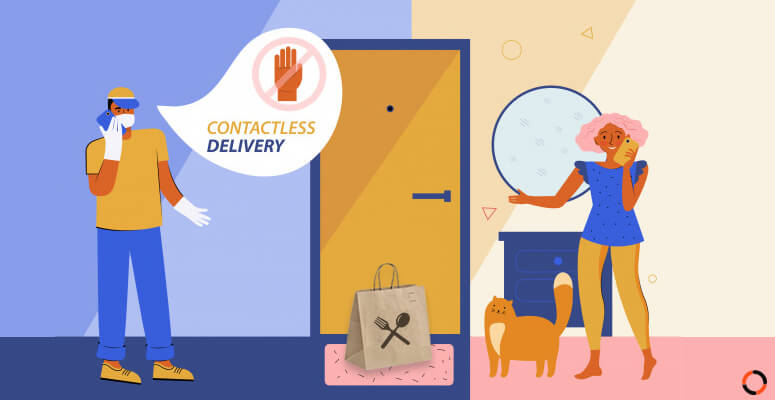 Millions of hotels have been forced for shutting down by coronavirus disease. They want to continue their hotel with the help of takeaway and food dispatch. Business operators use online food ordering and delivery system to sustain their eating house. Restaurateurs have switched over their traditional dispatch method to no-contact dispatch method. Hotels are struggled for initiating zero contact delivery. But there is no way for surviving the hotel industry during this pandemic period. Food ordering system helps hotels for serving the recipe at the consumer's doorstep by maintaining distance from others.
Food Ordering Process: Consumers are placing food orders via the web application or mobile site or mobile application. They should choose no-contact delivery during checkout before posting an online order. They are able to write their own comments to the driver in the instruction box. This service is only applicable to food orders with online payments. The food ordering system recommends consumers for online payment for maintaining the distance between him and the driver. If a consumer has no access to online payment, then he will pay cash. Consumers who select cash on delivery won't avail of this no-contact delivery service.
Contactless Delivery: Rider will place recipe on a clean surface in a location where the consumer instructed. He will call to consumer or ring the doorbell to let the consumer about food dispatch. He will stand two meters away. The online food ordering system adheres to the distancing concept in this way. Once the consumer picks up the recipe, then the driving partner will leave. Some of the food ordering software enables the driving partner for taking a food photo near the doorstep. He updates it in his smart-phone app which will be sent to the consumer immediately. After seeing this photo, the consumer shall pick the recipe. Thus, the online orders are untouched from the kitchen platform to foodie's place.
Precautionary measures: Eating houses are tried for making each customer feel safe. They are cleaning kitchen storage, cooking platform, doorknobs, door handles, dining areas, rider bags at short intervals. Riders avoid lifts and utilize the escalator instead. If there is no option, then the driving partner will check the lift. It should not crowd, and he sanitizes his hands after pressing the buttons. If the rider is going to deliver at lockdown locations, then he should seek suggestions from local authorities and perform the delivery.
Customer's trust: Hotels implemented handwashing procedures, daily temperature checking, and 3-layer face mask usage for staff and drivers. Employees are cautioned on the entrance and out point of the hotel to ensure 100% healthy. The consumer has to ensure food safety by heating or microwaving it at high temperatures before they consume it. These safety measures will create trust in customer's minds.
Marketing: Restaurateurs should highlight this contactless service through their food ordering system web application, mails, social media accounts, and other marketing channels. They should give a detailed description of this service and all steps of the dispatch process. They must encourage consumers for disposing recipe boxes and packing immediately. New promotional activities must be launched for keeping up the changing consumer demands.