How Delivery Automation is Transforming the Restaurant Business Globally?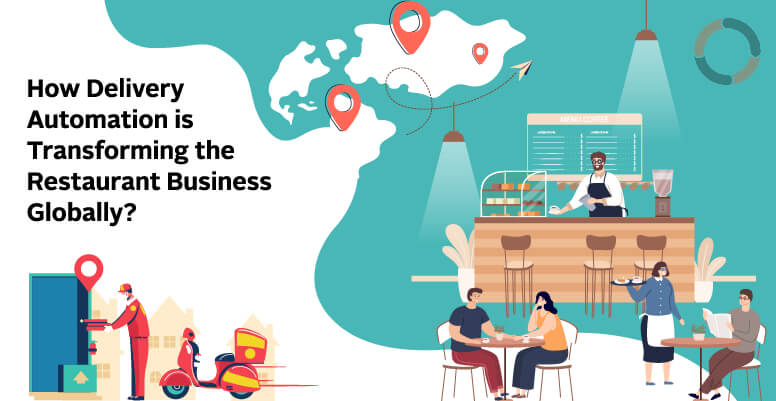 The arrival of food ordering systems that use computers, smartphones, and phone-compatible software has made online food ordering the preferred way of dining for busy people. Online food ordering systems make placing an order simple with little room for confusion. Independent business operators are now able to connect restaurants and customers seamlessly.
Modern restaurants that choose automated food delivery are predicted to grow phenomenally in the coming years. Driving this will be technological innovations in delivery automation. Handling food delivery to large numbers of customers will be an independent task that will be hived off to expert businesses. Increasingly restaurants will prefer to service more customers instead of serving diners in smaller numbers in their restaurant premises.
The most important outcome of an online food ordering system is the way restaurants reach out to customers. It is now possible to own a 100% online restaurant without dining facilities. Restaurants can now concentrate on their core competencies such as preparing tasty foods and introducing new recipes. To take care of the delivery, there are specialized restaurant delivery companies. These companies provide the logistic support, infrastructure, and people to keep the restaurants up and running around the clock.
There are two major users of online food ordering systems worldwide – restaurants that use food delivery software for their exclusive use and second, independent businesses (not restaurants) that connect a large number of restaurants across multiple territories to customers. Some have even gone global with formidable brand names. It is a big business employing hundreds and thousands of employees and a network of franchisees.
Another notable advantage that a food ordering system gives restaurants is reduced operational costs. With a minimal investment, restaurants can now commence business without having to pour money into expensive dining spaces. Low investments give restaurants a higher rate of returns even though the level of competition goes up. The convenience offered by delivery automation is a major reason why more customers prefer to buy food from restaurants instead of cooking it at home.
What does all this mean to the restaurants of the future?
1. Restaurants will be able to work with a lean force by hiring independent food delivery companies to take care of servicing customers.
2. Restaurants will concentrate on core activities – preparing food, packaging, and marketing. Other tasks will be delegated to specialized service providers.
3. Restaurants will utilize digital marketing tools in a big way. There will be an increased focus on social media for soliciting new business.
4. Restaurants will concentrate on giving better payment options and even encourage the use of credit facilities.
5. Delivery will be linked to the kitchen directly making it possible for customers to request special/customized food.
6. Restaurants will start to operate round the clock with no close or opening time.