How to Choose Best Software for a Restaurant Business?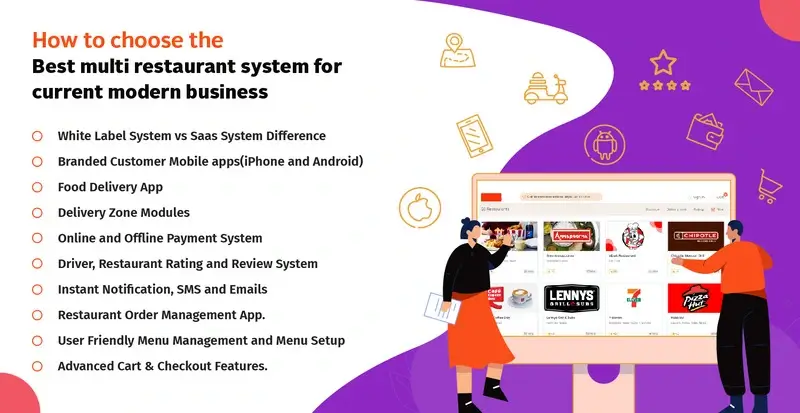 If you plan to start a restaurant business in online, the first initiative must focus on streamlining the ordering and delivering process. Popularly known as food delivery system, this application will provide reliable 24/7 connectivity for everyone involved in the loop. The main players in food delivery business are your business, restaurants, deliverers, customers, and payment gateway providers.
In today's competitive restaurant business, the key to success lies in embracing technological advancements and software. It has emerged as a game-changer for establishments seeking to thrive in the digital age. Powerful software solutions empower restaurant owners with the tools and capabilities needed to efficiently manage multiple aspects of their operations, from order processing and menu management to inventory control and delivery logistics.
What to Expect in Restaurant Business Software?
With so many restaurant system providers, anyone can easily get confused and choose the wrong system. The purpose of this blog is to give prospective multi-restaurant vendors as well as established restaurant businesses a clear view of what they should have in the system that they propose to buy.
Here are some important points to consider before placing an order for an ordering system.
Differences between White Label and SaaS Systems
The white label allows you a high degree of flexibility and you also own the software. You will have access to the code and you can choose to make changes or update it as you want. Your business can choose its own name as well. The software vendors of White Label products offer a fixed price.
The SaaS system uses monthly or annual billing as per the plan you opt for. To use the SaaS system, you must renew it as per the plan offers. You cannot make changes to the software or ask for additional feature upgrades.
Custom Built for Food Delivery
The food ordering System that you consider for your restaurant business must have been made especially for food delivery. A more generic delivery app will not have every desirable feature. It might require reconfiguring and some coding. This means more expenses and higher time for implementing it in your business.
Branding Compatibility
The multi restaurant online ordering system must be compatible to use your own brand name. This is an advantage. Your customers and restaurants will instantly recollect your business. It will help you build your reputation and brand image. A consistent and cohesive branding strategy creates a sense of familiarity and trust among customers, making them more likely to engage with the restaurant's online ordering platform.
The ordering system should seamlessly integrate the restaurant's logo, color scheme, and visual elements to mirror the brand identity across all touchpoints. When customers visit the online platform, they should immediately recognize the restaurant and feel a connection to the brand they already know and love. This alignment enhances brand recall and reinforces the restaurant's image, ultimately leading to increased customer loyalty and repeat business.
Online and Offline Payment Compatibility
To make life easy for your customers and widen the user base, you need to give them both online and offline simple and easy payment methods. The online payment will be integrated with the customer module and payment can be initiated in the module itself. The offline payment methods should include Internet banking, debit, and credit card payments. Offline payment methods will allow customers to make payments outside the app and cash on delivery (COD). With the wallet feature, you can help customers to make quick payments in simple steps.
Driver, Restaurant Rating and Review System
Any app designed for a restaurant business must have a review rating feature. It will allow the delivery administrator to get feedback about customer experience and drivers' quality of service. Reviews can be used for improving the delivery process and removing erring drivers.
These play a crucial role in ensuring a seamless and satisfactory customer experience throughout the entire ordering and delivery process. The availability of reliable delivery drivers is essential for timely and efficient order deliveries. A well-integrated Driver System allows restaurants to assign delivery partners based on proximity and availability, minimizing delivery times and enhancing overall customer satisfaction. Additionally, the system can provide real-time tracking of delivery status, enabling customers to monitor their orders and stay informed, further boosting their confidence in the restaurant's service.
Customer reviews and ratings serve as valuable feedback for both the restaurants and potential customers. Positive reviews and high ratings can attract new customers, while constructive criticism in reviews can help restaurants identify areas for improvement and refine their offerings to meet customer expectations better.
By incorporating a well-designed system, the restaurant business can actively engage with its customers, respond to feedback, and build a loyal customer base. Ultimately, a transparent and effective rating and review system instills confidence in customers, encouraging them to place orders and creating a positive reputation for the restaurant, which is crucial for success in today's competitive market.
Instant Notification, SMS, and Emails
Instant notification, SMS, and emails are crucial features to consider when choosing an ordering system for a restaurant business due to their pivotal role in ensuring timely and effective communication with customers, staff, and delivery partners. Instant notifications are essential for real-time updates on order status, enabling customers to stay informed about their orders from the moment they are placed until delivery or pickup. This feature enhances transparency and customer satisfaction, as it minimizes uncertainty and keeps customers engaged throughout the ordering process. It allows restaurants to promptly notify customers about promotions, discounts, and special offers, increasing the likelihood of repeat business and building a loyal customer base.
Secondly, SMS and emails play a vital role in enhancing communication efficiency within the restaurant's operations. When integrated into other systems, SMS and emails allow the restaurant to efficiently confirm orders, send order updates, and provide delivery notifications to customers. This seamless communication process reduces the chances of order errors and enhances the overall customer experience.
Restaurant Order Management App
The restaurant order management app is a vital functionality that must be a part of the App. This is the place where the restaurant will accept orders, showcase the menu, and take down special requests from customers. This feature will be convenient to show restaurant opening and closing times and the average time it will require for preparing and dispatching the ordered food.
Delivery Zone Modules
The ordering system must have different modules for each employee performing a different role in the delivery loop. There should be one for the restaurant manager with full control, one for the deliverer, and one for the customer. Each will have its own features and levels of control.
Advanced Cart and Checkout for Customers
There are many advanced features in the cart and checkout module that can be incorporated – examples are: advance food booking and delivery requests at predetermined locations, redeeming discount coupons, updating order instructions, splitting expenses at the time of checkout, and ordering for weeks or daily basis.
The Importance of User-friendliness in Ordering Systems
Friendly Menu Management and Menu Setup are critical factors to consider when choosing an ordering system for a restaurant business. Firstly, a user-friendly menu management interface allows restaurant owners and staff to efficiently update, modify, and customize their menus without the need for extensive technical knowledge or support. The ability to easily add or remove items, update prices, and create special promotions empowers restaurants to respond swiftly to changes in ingredients, seasonal offerings, or market demands.
A well-designed menu management system ensures that customers can quickly navigate the menu, browse through available items, and make selections seamlessly. A clear and intuitive menu setup enhances the overall user experience, reducing the chances of customer frustration and order errors, and ultimately contributing to higher customer satisfaction and repeat business.
An effective menu setup is crucial for presenting a cohesive and appealing brand image to customers. The multi-restaurant ordering system should allow restaurants to showcase their unique offerings, branding elements, and special features in a visually appealing and organized manner. This includes the ability to add high-quality images, detailed descriptions, and dietary information to entice and inform customers.
A system that supports easy categorization and sorting of menu items enables restaurants to present their menus in a logical and user-friendly manner, helping customers find what they want quickly and contributing to a positive overall impression of the restaurant's online ordering platform.
Making the Final Choice Intelligently
Choosing the best software for a multi-restaurant business is vital for staying competitive in today's food delivery industry. Embracing technological advancements and the most appropriate solution can significantly impact operations, and foster brand loyalty. A user-friendly interface not only simplifies menu updates for restaurant staff but also ensures a seamless and delightful ordering experience for customers, ultimately leading to higher satisfaction levels and increased customer loyalty. By carefully considering these factors and choosing the right software, restaurant owners can position themselves for success in the competitive landscape of the digital age.