Why delivery agent of multi vendor food ordering system frustrate during cash on delivery orders?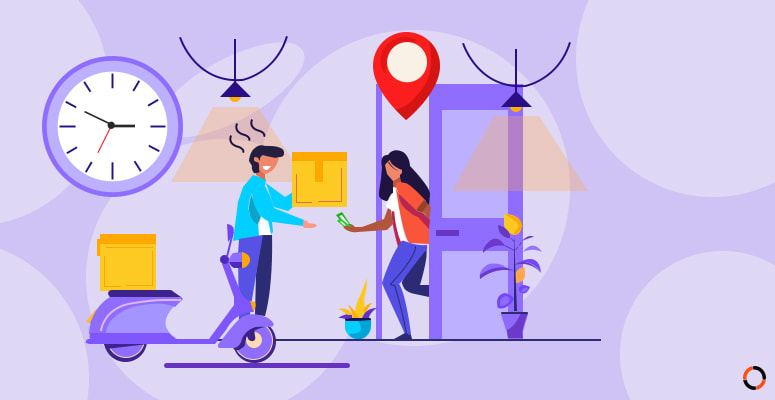 Multi vendor food ordering system alters eating habits of urban people in the recent years. Customers are placing their food requests in online. They are using digital payment methods include debit card, credit card, internet banking, unified payment interface, etc. If the customer is unable to use this payment facility, then they will provide cash to delivery agents. Delivery agents work based on targets and incentives and they are frustrated with cash on delivery orders(COD) for various reasons.
Exact change :
Customers are requested to keep the exact change for COD food requests. But, they are giving currency notes and expecting change from delivery executives. There are more than three hundred orders per month for an executive. Delivery agents are getting more than hundred COD food requests per month. They are unable to arrange the coins and small denomination notes for every order. This issue creates frustration among delivery agents and it affects their performance.
Floating cash deposit :
Cash collected from customers is termed as floating cash. The driver should go to delivery hub or bank for depositing this floating cash. The frequency of cash deposit is more than 3 times per week. Delivery agents are unable to concentrate on their work due to this floating cash deposit issue. They are wasting their golden time in the traveling towards the hub or searching the bank. It creates more frustration on themselves.
Safety in cash management :
If customers pay through digital payment methods, the driver has no responsibility in the monetary transactions. Drivers are working up to early morning. They get long distance orders in the late night. They are traveling alone on the roads. They are responsible for the cash collected in COD orders. It creates unnecessary fears in the late night.
No orders after cash limit :
Every food ordering apps fixed certain cash limits to drivers. Once the driver reaches the limit, the multi vendor food ordering system stops to assign food orders for drivers. There are less chances to deposit the money in the late night. When there are no orders, It affects the confidence level of drivers.
Bad ratings from customer :
If driver faces money related issues in the customer's doorstep, customer may give bad ratings. Driver's payout structure is linked with customer ratings. A happy driver dispatches food with smiling face. This cash on delivery orders disturb the driver's attitude and affects the customer satisfaction.
Continuous bank holidays :
Food tech companies are providing more offers to customers in the festive days. Dispatch executives are getting more incentives during that time. The food requests are doubled and the average value of the order is also increased. Bank employees will get continuous holidays in the festival days and there is no option of depositing the money in the bank. It is highly demotivate the delivery agents.